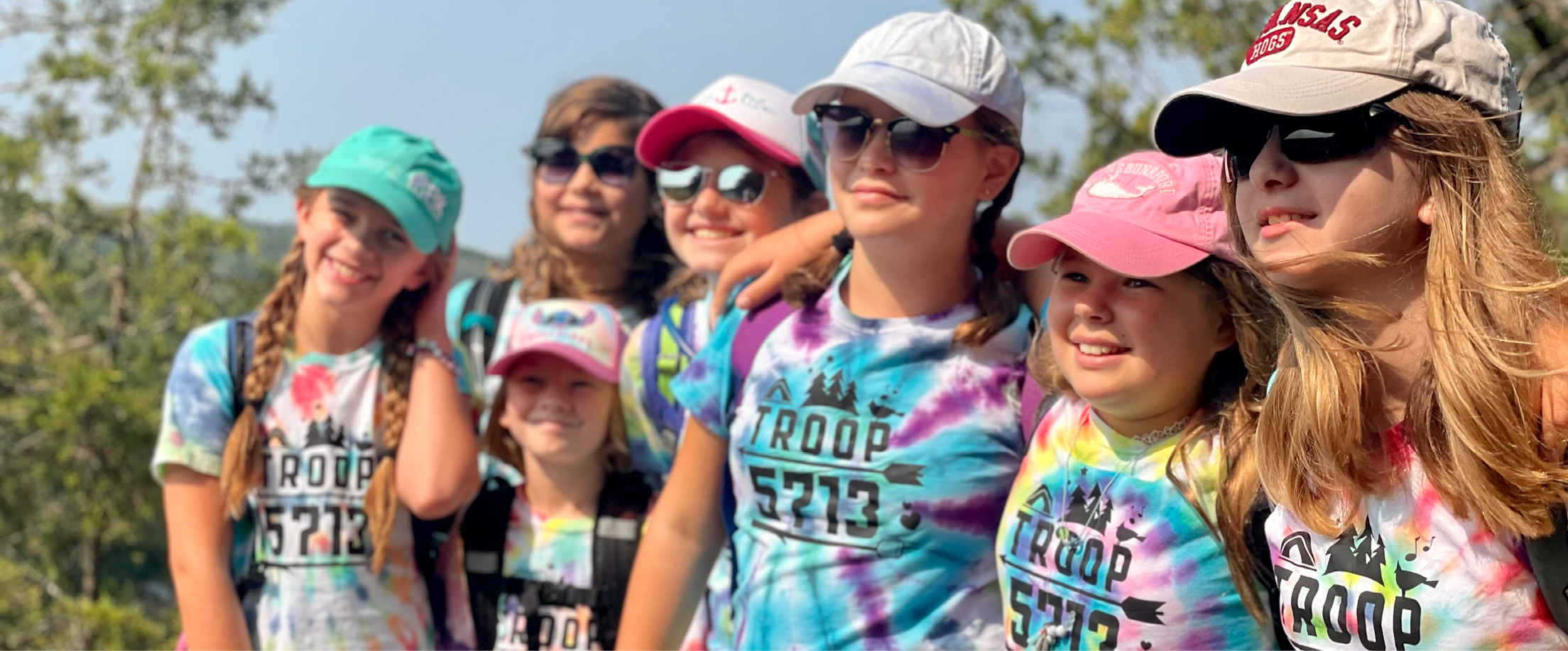 Troops
Join a troop and you'll always have something to look forward to! You'll get together with your friends to play games and sing songs; go on field trips to museums and nature centers; and explore the outdoors.

Earn badges as you learn to do all kinds of fun things—like paint pictures, camp out, make jewelry, go geocaching, create inventions, conduct science experiments, plant gardens, and oh, so much more.

Whether you get together once a week or once a month, you'll find yourself counting the days until your troop meeting starts—and the fun continues!

EPIC Troops are staff led troops created as a way to get girls off a waiting list and into the Girl Scout Program.
These troops meet once every two weeks at our regional offices. They are designed to engage girls in the Girl Scout Leadership Experience, help the girls earn badges and help girls participate in the Girl Scout Cookie Program.
For specific times and for more information please contact us via email. 
---
Busy schedule? Not much time for more afterschool or extracurricular activities? Don't worry! Did you know that Girl Scouts - Diamonds of Arkansas, Oklahoma and Texas has launched a new program as part of current afterschool programs so any girl in kindergarten through 5th grade can be a Girl Scout?Just like a traditional Girl Scout troop, Super Troops girls take part in fun skill building and cooperative learning activities, earn badges and participate in the largest girl-run business in the world by selling cookies!
How do Super Troops Work?
A Girl Scouts - Diamonds Program Specialist organizes and leads all Super Troop meetings held at an afterschool program. Our program is based on our Girl Scout Leadership Experience curriculum which includes activities that allow girls to build leadership skills, work as a team, and have fun. Girls earn badges, sell cookies (and reap the rewards from selling), and are eligible to go to Girl Scouts events, programs and camp. Troops meet every other week at specific locations, and parent volunteers take an active role in leading and assisting at meetings.
Currently, we have Super Troops at the following locations:
Little Rock: eStem Elementary, Forest Park Elementary and Pulaski Heights Methodist Children's Learning Center
Northwest Arkansas: Holcomb Elementary, Northwest Arkansas Classical Academy, Happy Hollow Elementary and Vandergriff Elementary.
Program Fees: There is an annual program fee of $100 ($25 membership fee and $75 supply fee). Vests, insignia, events, programs and camps are available for an additional cost.
Parent Volunteer Hours: Parental support is needed in the form of volunteering two hours per quarter for a total of six hours. There are a variety of volunteer positions and experiences available to fit parents' varying schedules.
Girl Scouts in Super Troops will participate in the annual Girl Scout Cookie Program. Troop proceeds raised will go toward a girl's respective Super Troop, and girls will then decide how to use the cookie money they earn. Girls will learn about goal setting, decision making, money management, people skills and business ethics through badge work they will do in Super Troops in preparation for cookie season.
Troops have already started meeting for the 2017-2018 school year, but spots may still be available. Contact programs@girlscoutsdiamonds.org for more information.
---
Gamma Sigma Gamma is a division of Girl Scouts Diamonds that is offered to a girl 9th-12th grade.  GSG brings girls together through the bond of sisterhood to learn about leadership, service opportunities, and how to take next steps after high school. If you are interested in joining or starting a new chapter of Gamma Sigma Gamma in your area please email us.