Bronze Award Girl Scouts
When Girl Scout Juniors team up to make a difference in their community, they learn important leadership skills, discover new passions, and watch how seemingly small actions make a big difference. It all adds up to the Girl Scout Bronze Award—the highest honor a Junior can achieve. Download the Bronze Award guidelines to find out how.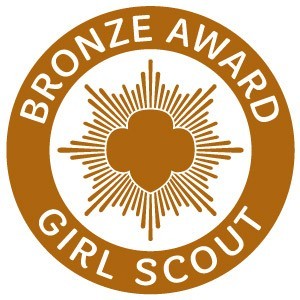 You can pursue your Girl Scout Bronze Award if:

You're in fourth or fifth grade (or equivalent)
 

You're a registered Girl Scout Junior
 

You have completed a Junior Journey


Girl Scout Bronze Award Steps



Build your Girl Scout Junior team
 


Choose your Bronze Award project
 




To receive your Bronze Award pin and certificate by June, submit your Bronze Award Final Report by March 1 of project year.
Final deadline to submit Bronze Award is September 30th of the year a girl starts 6th grade.
The council will provide Bronze Award pin and certificate for each recipient by mailing to troop leader.
Starting October 1, 2022 Troops will be required to submit a Bronze Award proposal in advance of starting their Bronze award, and Bronze award final reports will be submitted using online form. Only one proposal and one final report needs to be submitted per troop. 
The Money-Earning Policies have been updated for Take Action Projects! 
Community Service Project v. Sustainable Take Action Project
Service Project

Take Action Project (Sustainable)

Volunteering at a park to pick up litter.

Ridding an area of non-native vegetation and reseeding the area with native vegetation as well as educating community about importance of native vegetation via workshops.

Collecting books and building a Little Free Library

Establishing a reading program for at risk youth at the homeless shelter.

Building a Little Free Library in an area of low literacy where there is no library access and creating media campaign for community about how to use and donate.

Planting a butterfly garden.

Working with city parks department to start a community garden that the city will maintain and teaching gardening skills to younger girls during workshops.

Decorating and displaying a poster with healthy eating tips.

Host workshops for elementary students to learn cooking skills and send them home with a recipe book developed as part of project.

Building a picnic table for your park.

Creating a Leave No Trace interpretive guide for education trail near elementary school.