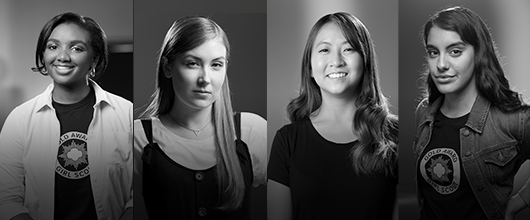 Gold Award Girl Scouts
Issues of the world, meet your match. 

Gold Award Girl Scouts are the dreamers and the doers who take "make the world a better place" to the next level.
The Girl Scout Gold Award is the mark of the truly remarkable—proof that not only can she make a difference, but that she already has.
Seniors and Ambassadors who earn the Gold Award tackle issues that are dear to them and drive lasting change in their communities and beyond. Think of the Gold Award as a key that can open doors to scholarships, preferred admission tracks for college, and amazing career opportunities.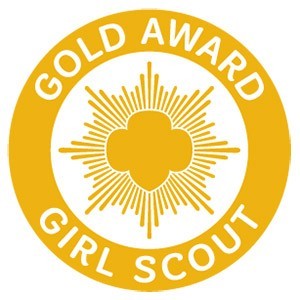 You can pursue your Girl Scout Gold Award if:
 

You're in high school (ninth through twelfth grade, or equivalent) 
 

You're registered as a Girl Scout Senior or Girl Scout Ambassador
 

You have completed two Senior or Ambassador Journeys OR earned the Girl Scout Silver Award and completed a Journey
 
Girl Scout Gold Award Steps


Investigate your issue thoroughly
 

Get help and build your team
 


Present your plan and gather feedback 
 



Please use the resources below to get started.
Starting October 1, 2018, Girl Scout Gold Award projects CAN be to the benefit of the Girl Scout Community. Permission from Property or Program Departments may be necessary. Details available in training.
In order to have a successful project and experience in earning this award, attendance at Gold Award training is required. Look for Gold and Silver 101 training dates on the events calendar. An online version of Gold Award training is available above. Completion of knowledge checker will confirm participation in training.
The Money-Earning Policies have been updated for Take Action Projects! Contact the Fund Development department for more information before you start your project.
The Gold Award Committee meets the 1st Sunday of each month to review Gold Award Applications. Please submit Gold Award Proposal/Final Report at least four days prior to that meeting. Gold Award candidates should receive feedback by the end of the month in which the proposal was turned in.
Your Final Report must be submitted by March 1 of the year to be awarded to receive your award at the Girl Scouts – Diamonds Gold, Silver and Graduating Senior Ceremony.
If you are not able to make the ceremony, please turn in your Final Report by April 1 of the membership year the project was completed. Please allow 6-8 weeks for pins and certificates to be ready for pickup.
It is the girl's responsibility to make sure her paperwork was received by the Highest Awards Coordinator. If you have not received an answer from the Gold Award Committee by the end of the month, contact the coordinator via email or (800) 632-6894 ext. 6762. You must receive approval before starting your project.
Diamonds Gold Award Mentor Committee
The council Gold Award Committee is looking for a few new members who wish to help Senior and Ambassador Girl Scouts succeed in earning their Girl Scout Gold Award, the highest award in Girl Scouting.
The committee meets monthly (via phone) and reviews project proposals and final reports. They ensure that projects meet GSUSA guidelines, review the size, scope, and cost of each project, make recommendations for project development, guarantee that the project is appropriate to earn the Girl Scout Gold Award and ensure a consistent Gold Award process for girl members in our council.
Members of the committee also serve as mentors to girls who are working on projects by guiding and supporting their endeavors. Committee members are encouraged to participate in the annual Gold, Silver and Graduating Senior ceremony and serve as award trainers.
This Council-level volunteer position is open to any registered adult member willing to be a positive role model for girls in order to build our leaders of tomorrow.  Committee members should possess:
A desire to improve the quality of Gold Award projects and build a strong network of support
Experience  earning this award or helping girls through the process preferred, but not required. 
Reliable access to internet
The ability to make fair and impartial decisions
Consistent time to dedicate to the process (approximately 3-5 hours per week)