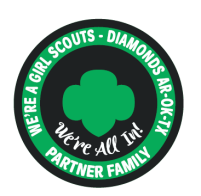 All In For Girl Scouts
Is your family All In for Girl Scouts? We hope that your family will make a donation to the Family Partnership Campaign. When you give, you become an agent of change as your family chooses what programs to support – from memberships for girls, volunteer training, camps, our horses, community programs or any other council fund! When your family makes a gift of $25 or more, your girl will receive a "We're All In!" patch to proudly wear on her uniform ($10 increments for extra patches for additional girls).

Visit our Give page or review the flyer for more information.
Penny the Pig
Earn a special "Penny the Pig" patch for the whole troop while they learn what it really means to "be a sister to every Girl Scout." Complete the Penny the Pig patch program, where girls become philanthropists, learn what that means and how they play a part in making a big difference at Girl Scouts – Diamonds.