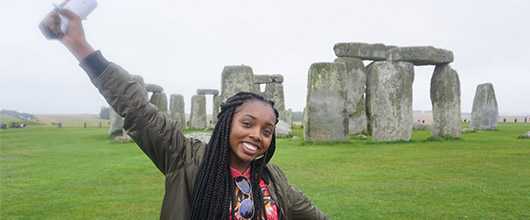 Travel
Girl Scouts love to travel—from the field trips they take as Brownies to the global adventures they go on as teens. If you love exploring different places and cultures, then Girl Scouts is the place for you.
Travel as a Troop
Troop travel is planned and implemented by girls and adults in troops. The majority of the participants belong to the same troop, or they can coordinate with other troops to travel together. Travel should be age appropriate and should be progressive based on the travel experience and readiness of the girls in the troop. Troop camping and troop sponsored events at Girl Scouts – Diamonds Camps and Properties are also available.
Troop Travel Application and Checklist
Troop Travel FAQ
Girl Scout Travel Progression
U.S. Travel Guide
Global Travel Toolkit
WAGGGS World Centres International Adventure Activity Pack

You can experience all that our country has to offer, whether you're "blasting off" at Space Camp in Alabama, taking in a Broadway show in New York City, or visiting the birthplace of Girl Scouts' founder, Juliette Gordon Low, in Savannah, Georgia. And you can plan even bigger adventures around the world, traveling with other Girl Scouts who share your love of adventure.
Zonta Travel Scholarship 

Pat Crump was a member of the Zonta Club of Fort Smith, AR for 38 years. She was an active supporter of Girl Scouts, including being named a Woman of Distinction in 2007 by thee Mount Magazine Council. She passed away in 2020 and the Zonta Club of Fort Smith is setting up a travel scholarship in her honor. Pat loved traveling and valued how travel can teach you to understand and appreciate different cultures and perspectives. This scholarship will support one Girl Scout troop's travel with a sum of up to $500. The troop selected must be Cadette, Senior, and/or Ambassador level and located in Sebastian or Crawford counties. Selection will be made by a committee. Applicants will be notified of decision in January 2023.
Application to be completed by troop leader with Girl Scouts. Please Fill out information below and return by deadline of November 18th, 2022.

Destinations
Check out Girl Scout Destinations, the ultimate adventure program for girls ages 11 and older. With a ton of different trips to apply for every year—from surfing camp on the east coast and breathtaking hikes out west, to the crazy-cool wonder of new cultures abroad—there's something amazing for everyone to experience.
Make friends from all over the country as you travel with Girl Scouts from different states, see and learn new things, and pack your bags full of inspiring, life-changing experiences and memories. Find your trip today!
How to Send Your Girls on Destinations Webinar
Click the link in the title to view the October 2020 webinar covering general information about GSUSA Destinations, types and locations, how to apply and financial assistance available through Girl Scouts - Diamonds. PLEASE NOTE: The dates in this webinar have been updated.  

Where can you go?  Places like China, Costa Rica, Switzerland, Patagonia, Peru, Scotland, Germany, Mexico, and more!
How far will your Girl Scout experience take you? That's up to you!
Destinations Timeline
December 2022 - Rolling admissions for 2023 trips
May 2022 - 2023-2024 Destinations preview released
August 2022 - All 2023-2024 Destinations posted
November 1, 2022 - Round 1 Applications due
December 1, 2022 - Round 1 notifications 
Financial assistance is paid directly to the destination sponsor organization or council.