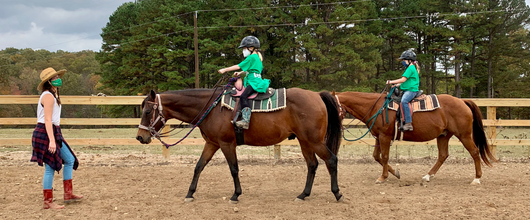 Outdoor and Horse Programs
Girl Scouts – Diamonds offers a wide variety of outdoor programming for Girl Scouts of all ages. Register for program events through the Events Calendar. 
The Horseback Riding Program features events for riders of every level, including those who have never ridden a horse as well as those who have never been involved in Girl Scouting before. If your girl has previous riding experience, please read the riding levels information at the bottom of this page to select the correct level. 
Outdoor and Horsemanship Programs

Outdoor Events and Programming at Camp

Horse Programs at Camp NOARK

Level Lessons (see level descriptions below)
Staff In training – Riding Rookie
Family Lessons
STEAM Lessons – Compost this year!
Grown Up Only Afternoons

Check the events calendar for horse programming at Camp NOARK. If you're looking for an A la Carte, take a look at our pricing and contact barn@girlscoutsdiamonds.org. 

Other Activities

Other activities at Camp NOARK:

Hiking
GAGA Ball
Basketball
Outdoor cooking

Horse Program Riding Levels
Please see below to select the correct Riding Level for your girl for our Horsemanship Programs!
Level 1 – Saddle Up

Level 1 riders have never ridden before, or need some practice before riding at a walk confidently and independently in the arena. Level 1 riders learn to safely approach, lead, groom and saddle their own horses, as well as basic control at a walk (stop, start, steer). Girls must be Juniors or older before enrolling in Saddle Up sessions. Daisies and Brownies may attend other sessions offered to their age group.

Level 2 – Tenderfoot

At level two, Tenderfoot riders continue to practice safe horse handling, grooming, saddling and control at a walk, and will begin learning to bridle, pick hooves and ride at a trot.  

Level 3 – Trailblazers

Level 3, or Horse Sense, riders continue to practice safe horse handling, grooming, saddling, bridling, control at a walk and trot, and will begin learning to ride at a lope/canter. After completing the arena riding requirements, Level 3 riders will learn trail safety and hit the trails! 

Levels 4 and 5 – Wrangler and Advanced Wrangler

Wrangler (level 4) and Advanced Wrangler (level 5) objectives are similar, and lessons may often be combined, but Level 5 riders are expected to perform at a higher proficiency. Riders at these levels continue to practice safe horse handling, grooming, saddling, bridling and control at a walk, trot and lope. They will also have opportunities to compete they will also begin rodeo type patters such as barrels and poles etc., and will conquer more advanced trails, including the possibility of overnight camping with the horses. Ground lessons for Level 4 and 5 will begin to focus on the entirety of the horse industry, learning about horse purchasing, ownership, veterinary care, and equine-related job opportunities.

Some objectives, especially those concerning the Camp Rodeo, will only be completed during the summer Wrangler and Advanced Wrangler sessions. During the 2-week summer Wrangler and Advanced Wrangler sessions, riders will help plan and compete in a rodeo hosted at NOARK, with attendance open to family and friends! 

Level 6 – Riding Rookie

Riders at this level have a mastery over all basic care of horses used for trail and rodeo riding, as well as strong riding skills at a walk, trot, and lope. Girls who have satisfied all the Level 5 requirements and successfully reached Level 6 are known as Riding Rookies!

Girls entering the 11th grade, regardless of riding level, are also eligible to enroll in the Counselor-In-Training summer camp session, a comprehensive training designed to teach leadership skills and prepare girls to apply for Girl Scout camp staff positions.